Foundations For A Bright Future
Rich Content, Inspiring Ideas, and Advancing Learning Concepts
Foundations For A Bright Future
Rich Content, Inspiring Ideas, and Advancing Learning Concepts
preschool | 3-4 years | Serving Apex & Fuquay-Varina, NC

Striking a Balance with Academics and Play
The balance of the Building Bridges curriculum develops crucial cognitive, emotional, and social skills for your child's future, plus fun S.T.E.A.M. activities are included too. Engaging your child with the perfect mix of learning and fun: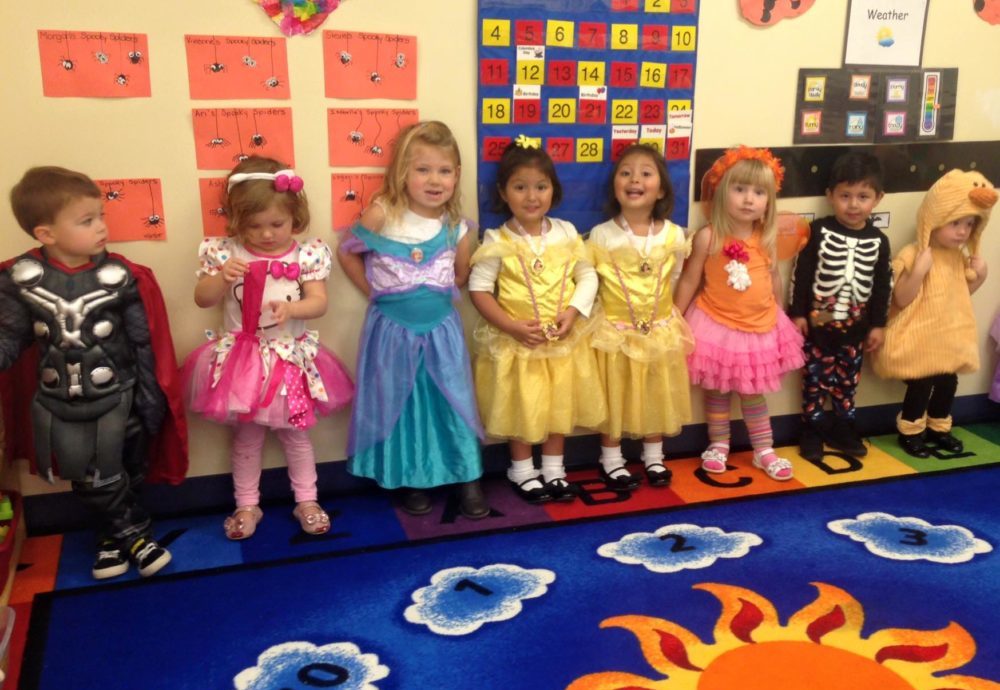 Creating Curious Minds
Through Rich Content
Children build the confidence to push themselves, discover, and explore in a happy, safe, and educational environment. Your child is becoming a lifelong learner through themed-activities that are hands-on, which focus heavily on:
Welcoming You, Your Child,
and Your Family
Director, teachers, and parents are all part of creating an atmosphere that kids want to return to day after day. We foster an environment where everyone can feel happy and safe and are committed to this sense of community.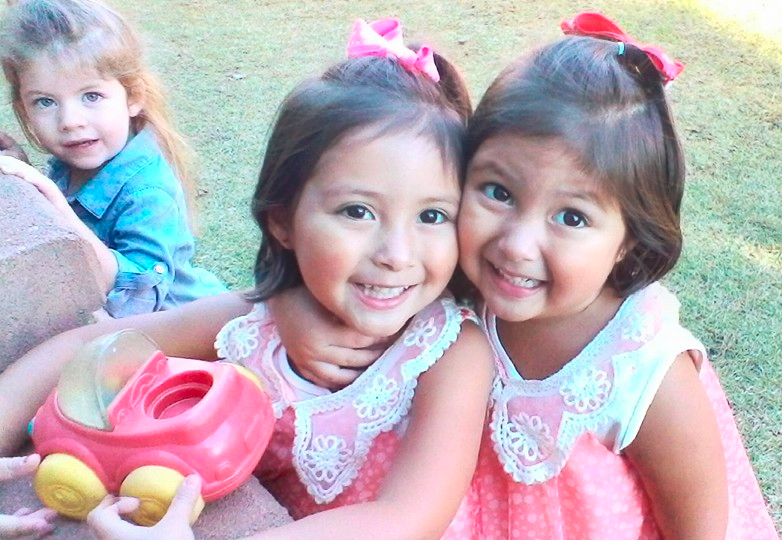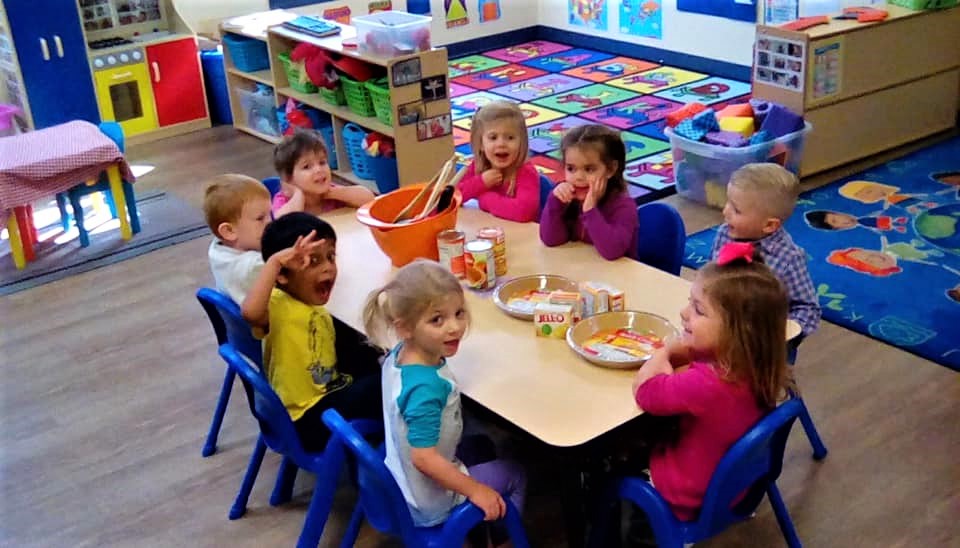 Social Interaction, Independence,
and Approaching Adjustments
At this age of significant developmental changes, emotions are handled with patience and expert care so that your child can ease into social interactions, independent play, exploration, and creativity.
A Collaborative Community
Every child has a role to play, foster a sense of pride and participation, and encourage positive interactions and a sense of responsibility. As the group progresses together, those bonds thrive and grow.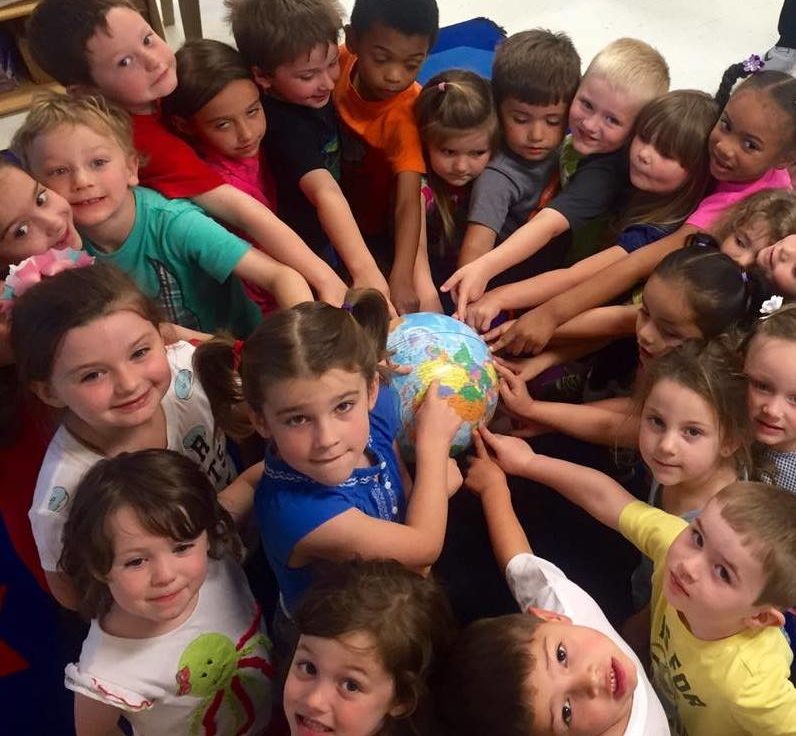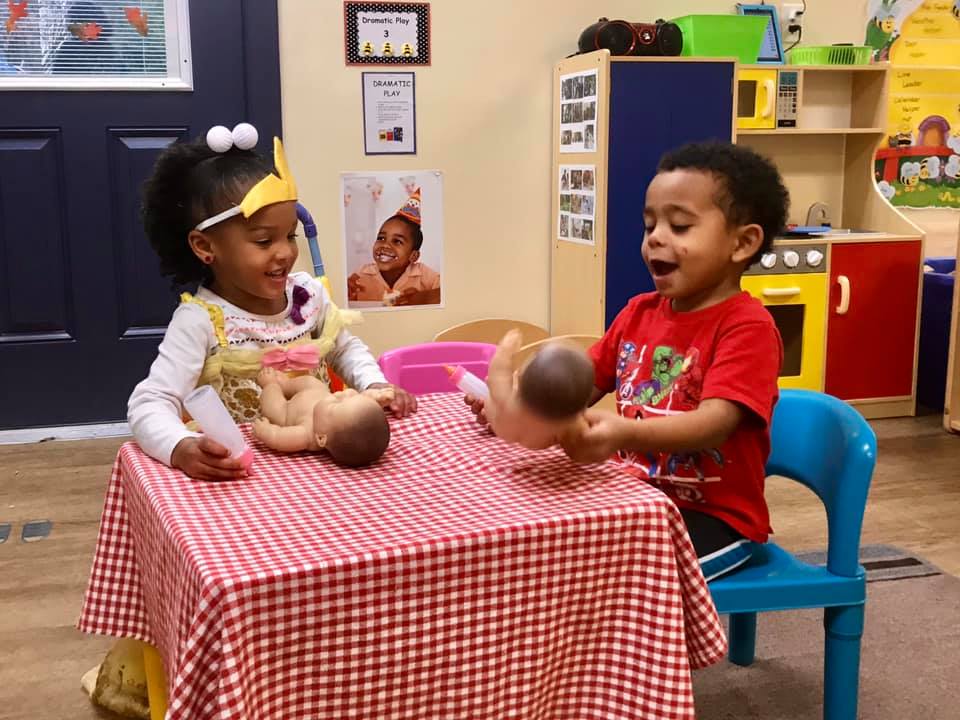 Good Habits Like Keeping it Neat
Cleanliness is a top priority, and all spaces are regularly sanitized by staff. Children learn to take care of their environment and build a sense of ownership as they keep things shipshape.
Building Creative Skills
With Art, Music, And More
With a focus on self-expression and thematic play, children are encouraged to build their creative skills through art, drama, and music, exploring narrative, color, shape, and rhythm.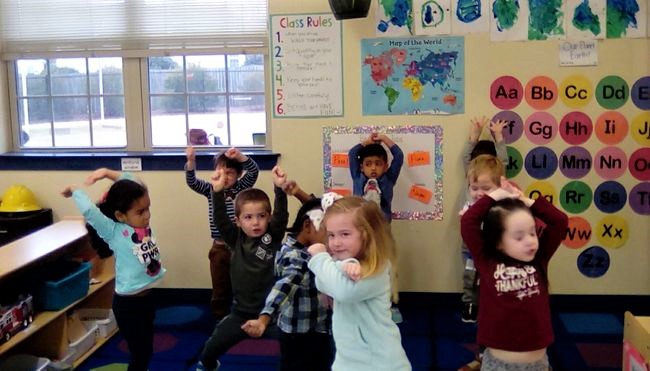 Komputer Kidz: Exploring Technology
Your child prepares for Pre-K with an introduction to S.T.E.A.M. learning (science, technology, engineering, arts, math) and through interactive activities such as the optional Komputer Kidz Technology Program.
KidoKinetics For More Active Play
With expansive areas to learn and play, children can move, stretch, and build their physical awareness. KidoKinetics is an optional sports program open to this age group, designed to instill a love of exercise.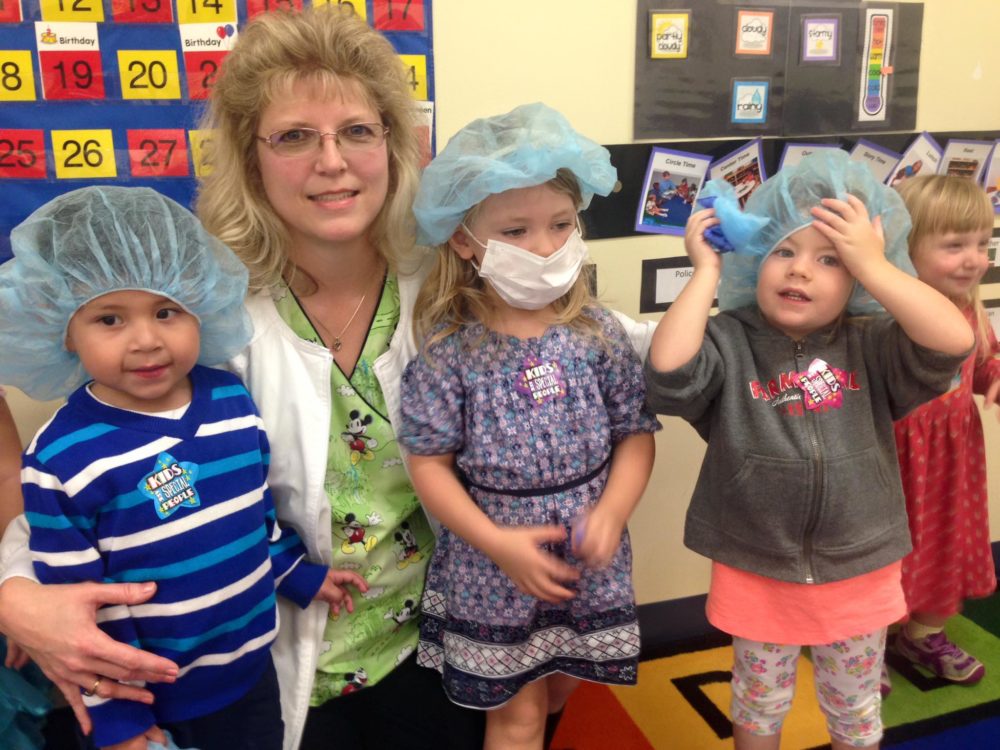 Invited Guests Capture
The Young Imagination
Children expand their horizons as they meet inspiring visitors from all walks of life and learn about their jobs, from doctors and dentists to magicians and musicians.
NAEYC Standard Of Excellence
The professional standard of the NAEYC accreditation program ensures high-quality childcare and education. Our Fuquay-Varina preschool is fully accredited, and our Apex preschool is in the process of being certified.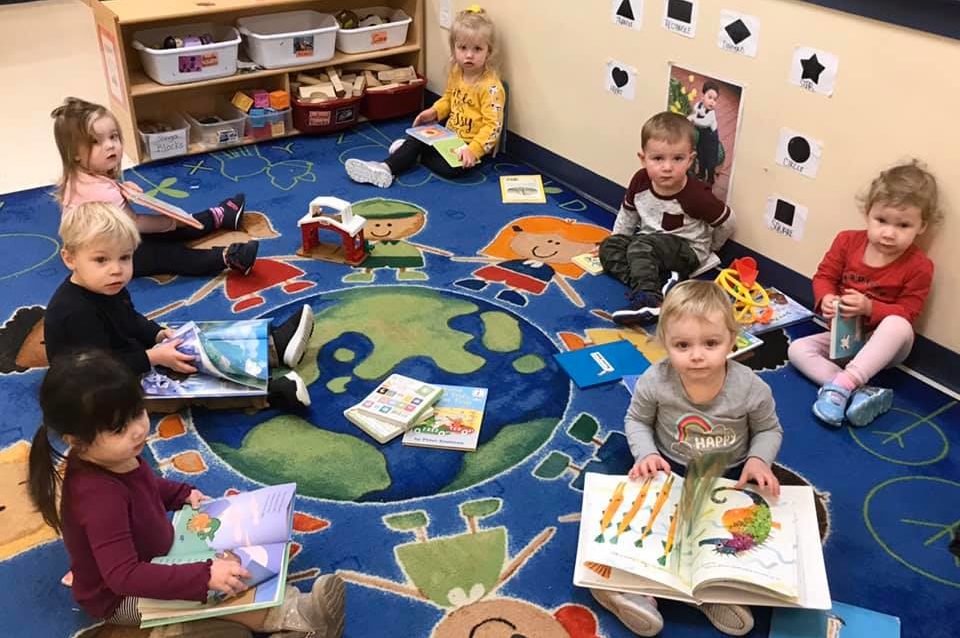 Harmful toxins are reduced to the greatest extent possible from your child's learning environment, and our classrooms all have individual climate controls. "Green" construction practices mean low-VOC materials have been used to maintain indoor air quality.
We pride ourselves on the safety or your child's daily environment. Security measures and safety practices that are established at Ashebridge are as follows: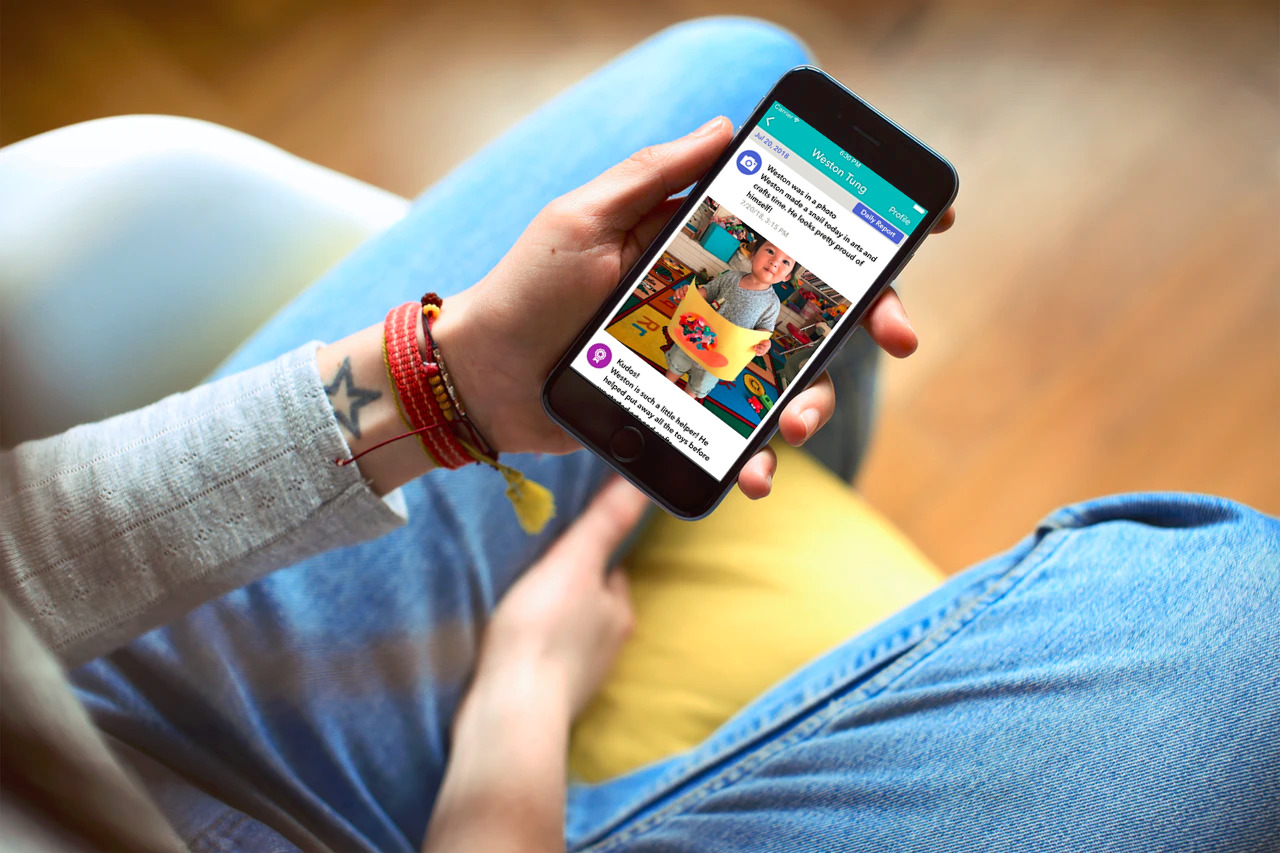 Mobile App for Updates and Photos
Our "Brightwheel" app is an interactive way for you to receive updates and photos of your child throughout the day. Nothing brings greater peace to your mind and warmth to your heart than seeing your child happy, well-surrounded, and learning a ton.
F.A.Q (Frequently Asked Questions)
"I absolutely love the staff and the curriculum"
My son is thriving at Ashebridge in Fuquay. I absolutely love the staff and the curriculum. At 3 years old he can tell you about gardening, the life cycle of a butterfly, and which planet has rings around it. His teachers have been a great support during potty training, and they even get my son to eat vegetables!
"
"
"I fully trust and love the staff at AsheBridge"
We love AsheBridge! Our daughter is so well taken care of and she loves going to AsheBridge! I would highly recommend to anyone. I fully trust and love the staff at AsheBridge.
"
"
"The facility is kept very clean and organized"
We have enjoyed having my son at Ashebridge! The staff are all very welcoming. The facility is kept very clean and organized! I recommend this preschool to anyone looking!
"
"